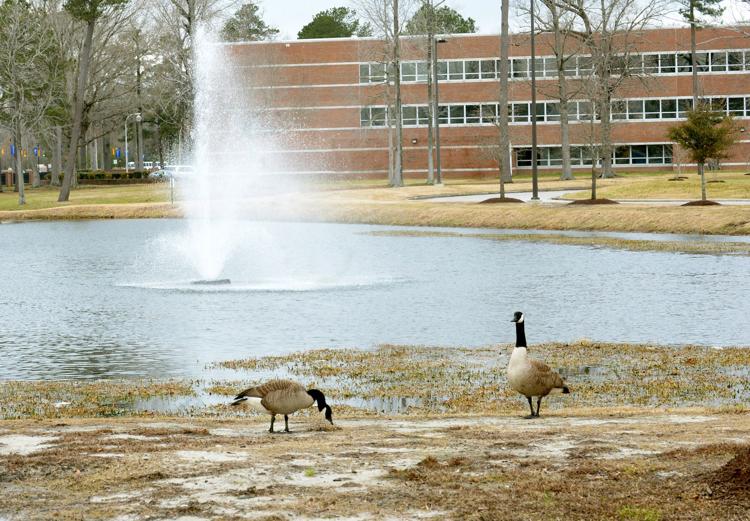 With resident geese causing crop damages now costing Pasquotank County farmers $250,000 a year, county commissioners plan to seek Elizabeth City's help tackling the county's geese problem.
The Board of Commissioners received a briefing on the resident geese problem from USDA wildlife biologist Aaron Bowden during a finance committee on Monday. Afterward, they agreed to ask City Council to partner on a plan to reduce the county's resident geese population.
County officials said any effort to reduce the number of geese needs to involve the city, not just because of cost but also because any effective eradication program would need to be countywide.
"Both of us need to be involved with this. It has to be both of us," County Manager Sparty Hammett said.
Officials said an eradication program would cost about $25,000 and need to start in March. County officials would like to have a plan in place next month so contracts can be set to begin planning an eradication program in February.
Bowden said the USDA can conduct the work to reduce the county's number of resident geese, adding that the agency would need about a six-week window to complete the process.
But getting the city on board with the plan could prove difficult.
City Manager Rich Olson said Tuesday afternoon he had not talked with county officials about a joint effort to eradicate geese, and that any decision to move forward with such a plan would have to be made by City Council. Olson also said city staff may have "some reservations" about a joint effort because of the cost.
"We have a lot of expenses coming up right now," Olson said. "We would have to look at it."
The USDA made a similar presentation about resident geese to county officials two years ago. Bowden noted there are even more resident geese in the county now and the problem they're creating is now countywide.
He showed commissioners several photos of crop damage in the county.
"(Farm) producers are losing around $250,000 a year in damages, and that is just to crops," Bowden said. "You have a perfect habitat, retention basins, creeks adjacent to crop fields and grassy areas. The soybeans look like little sticks and as you can see the tops are completely gone off of them.''
One of the most effective geese-eradication measures, Bowden said, is to identify the animals' nesting areas and then "oil" the eggs. That deprives egg embryos of oxygen, thus killing them, he said.
Coating their eggs in corn oil not only reduces geese's ability to reproduce, it most likely would force them to leave the area in search of new nesting grounds.
Bowden predicted the county in fact would see almost immediate results from stopping geese eggs from hatching.
"You would see the biggest turnaround in the first, second and third year," he said. "Over the course of time you cut out 70 percent, give or take, of the population every year. If we can get really aggressive, and especially if we can get on private properties with retention basins, you are suddenly going to realize that when crossing Halstead (Boulevard Extended) instead of seeing 100 geese with 70 goslings you will see a dozen, two dozen adults.''
Bowden also recommended that any plan include ordinances that prohibit citizens from feeding resident geese and requiring future retention basins be less geese friendly, which would include requiring steeper banks.
"There are some things you can do long term to eliminate the need for future oiling," Bowden said. "Every time you put in a new development and a stormwater retention basin is put in you are creating more habitat. With a combination of tools, you can chip away at the population over time."
But to work any effort has to be "comprehensive" and "all inclusive," he said.
"It has to be pioneered by somebody with a vested interest and it takes a lot of work in a very narrow window of time," Bowden said.
Dexter Harris, director of the Elizabeth City-Pasquotank County Parks and Recreation Department, said geese are a "huge problem'' at some parks and public use areas around the county. Harris said he would like to see an ordinance that prohibits feeding resident geese.
"The golf course could be manageable but we have one guy that refuses to stop feeding them," Harris said. "We have signage up that says 'do not feed' them, but we have a couple of people that completely ignore those signs.''