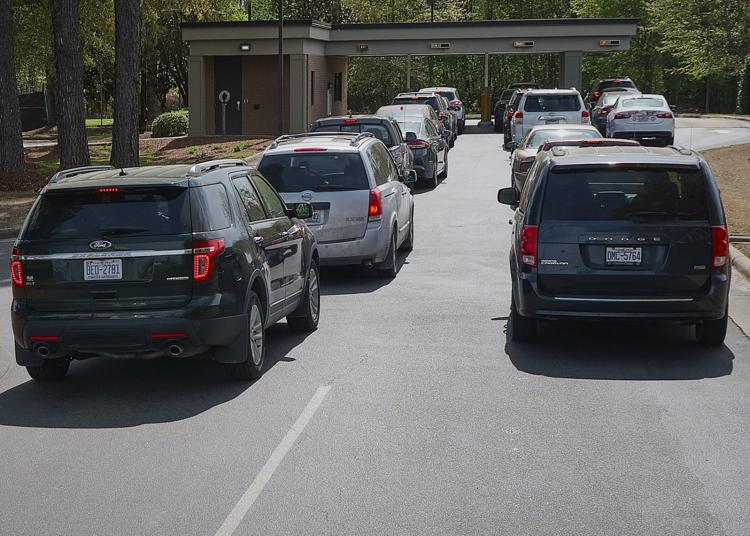 If people waiting in line outside the N.C. License Plate Agency Monday morning are any indication, Gov. Roy Cooper's stay-at-home order won't disrupt much about daily life in Elizabeth City.
Most of those interviewed said they are already staying at home except to travel to work or conduct essential business — both of which are permitted under Cooper's executive order to prevent the spread of COVID-19 that took effect Monday at 5 p.m.
Cooper issued the order Friday, ordering all North Carolinans to stay home for the next 30 days as a way to discourage gatherings of more than 10 people and increase social distancing.
Patrons lined up outside the license plate office on North Road Street Monday were practicing social distancing. Most tried to keep 6 feet apart from others in line as the agency limited how many people could be inside the office at one time.
Charlie Ortiz said he is mostly staying at home except for going to his job at the Barry Robinson Center in Virginia, a rehabilitation center for children.
"We still have to go to work," Ortiz said.
Tracy Varner said she has a pressing personal reason to be especially careful about social distancing: She has a 2-year-old granddaughter who immune system is compromised.
Varner said her family was already staying home except for trips to pick up necessities.
"We've been doing it for about three weeks now," Varner said. "I think it's a good idea."
Another woman waiting in line outside the license plate agency, who asked that her name not be used, said she fully supports the governor's order and was only out herself because she had to get a work van registration completed for a family member who's still working. She noted she works at a hotel and is currently out of work,
"I'm for it," she said of Cooper's stay-at-home order. "My mother-in-law is sitting in the truck right now and she's highly susceptible to it (COVID-19). My mother in upstate New York is highly susceptible to it. I'm all for it (stay-at-home)."
Quite a few of those standing in line to renew vehicle registrations or perform title work said they are still going to work regularly.
Jimmy Boone said he's staying at home except for going to work and doing essential business, such as his visit to the license plate agency on Monday.
Boone said he's being careful to follow the rules and encourages others to.
"I think we should abide by the rules that have been set forward for us," Boone said, adding that handwashing and social distancing are important for everyone in addition to staying home except for essential business.
Boone said he is a bus driver at Gates County High School and is still going to work, where he is helping deliver food to students.
Jerry Hopkins said he's staying home except for work but is still going to work as long as there is work for him to do.
"I'm trying to stay at work as long as possible," said Hopkins, who works in maintenance at the Ponderosa Mobile Home Park in Currituck. "But right now we're not doing house calls unless it's a dire emergency."
Work has definitely slowed, he said.
Hopkins said he has been using this time to work on a mobile home that's vacant. "That's the only thing that's keeping me going right now."
But aside from work he rarely leaves the house.
"I wouldn't be out here today if it weren't for this," he said, referring to renewing his vehicle registration.
Ray Byrum, who lives in the Tyner area of Perquimans County, said he is still working but otherwise is staying home.
Byrum said he works in Gatesville at a lumber yard and has a document from his employer saying that he is still able to come to work. He said his understanding is that the lumber yard will continue operating during Cooper's stay-at-home order.
A whole range of businesses — everything from manufacturers, grocery stores and daycare centers to convenience stores, hardware stores and hotels — can remain open during the 30-day period covered by Cooper's order provided they follow social distancing guidelines. Restaurants can also stay open if they only provide take-out and delivery service.
Pasquotank County Manager Sparty Hammett said Monday the county isn't planning to institute more restrictive measures — a curfew or random checkpoints — than the state has already imposed with Cooper's stay-at-home order. City Manager Rich Olson also has said Elizabeth City is not considering more restrictive measures at this time.
"Not at this time, but it is a fluid situation and things could change," Hammett said.
Pasquotank Sheriff Tommy Wooten said his office also doesn't plan to implement any restrictions beyond what's contained in Cooper's order.
"When we see gatherings of 10 or more, we will ask them to disperse, but other than that, we don't see a lot of changes" from what's disallowed under the governor's previous orders, he said.
Wooten said deputies won't be randomly stopping vehicles to find out if drivers are following the order's mandate to restrict their travel to essential business.
"They could be going to the gas station or the grocery store or going to the doctor's office," he said. All are permitted under Cooper's order.
Vehicles traveling late at night after most businesses are closed will likely get more scrutiny, however.
"If someone is out late at night, that might raise the suspicions of a deputy," Wooten said.
He agreed those motorists might be stopped and asked about their destination.
That's because the Sheriff's Office still has to be concerned about break-ins and other crimes, Wooten said. The sheriff in fact cited a possible increase in business break-ins as one of his "biggest concerns" during the 30-day stay-at-home period.
Wooten noted that a lot business owners and operators — and those who patronize their businesses — will be at home over the next month. That could provide opportunity for those looking to break into a business.
"Populated areas help deter crime," he said. "If areas aren't populated, criminals will seize that opportunity."
Wooten noted that law enforcement relies heavily on citizen "witnesses" not only to solve crime but to help deter it.
"When you don't have people out and about to help keep an eye open (for crime), it makes law enforcement's job more difficult," he said.
That's why he's advised deputies to "double-check and triple check" businesses to make sure none are victimized by crime while their owners and operators are at home.
Pasquotank residents will notice one change today. As of 8 a.m., county offices located in the Pasquotank County Courthouse and the Register of Deeds Office will conduct business by appointment only.
Agencies affected include the county offices of tax, county manager, county attorney, planning and inspection, finance, geographic information systems, human resources, magistrate and clerk of the courts.
"It will be appointment-only for all the departments and agencies in the courthouse and across the street in the Register of Deeds and GIS building," Hammett said. "The public is encouraged to limit non-essential in-person interaction with Pasquotank County employees and departments when at all possible to help prevent the spread of COVID-19. Citizens are encouraged to use any online services that may be available in addition to communicating with Pasquotank County employees via email or telephone."
The Pasquotank Water Department office is still operating and additional measures have been instituted to protect employees and the public. Drive-thru service is also available for water customers.