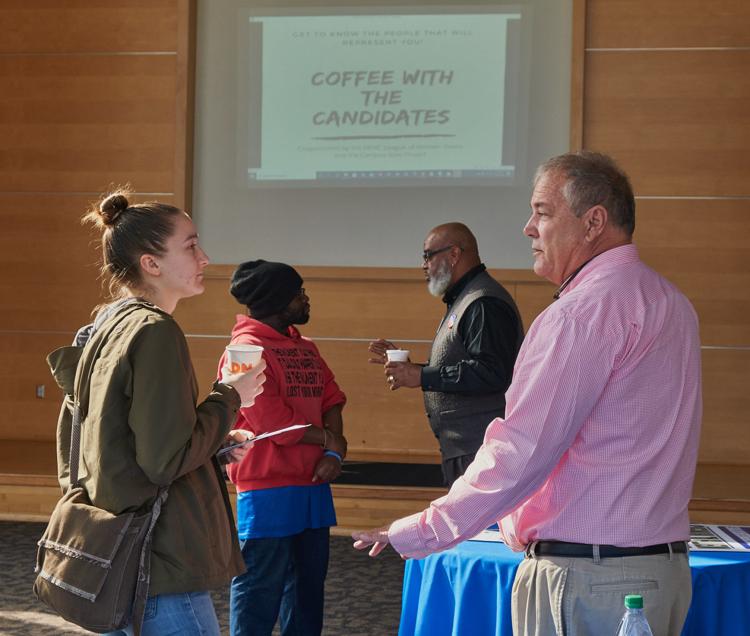 When it comes to choosing a favorite presidential candidate, Elizabeth City State University students are like many Americans: Still undecided.
Several students attended a Coffee with the Candidates forum at ECSU's student center Saturday morning. The forum was an opportunity for students to speak to candidates on the final day of early voting ahead of Tuesday's statewide primary election.
More than 6,000 voters in the five-county region have cast ballots for Tuesday's primary so far. More than a third of those early votes — 2,481 — were cast in Pasquotank.
Erica Acheampomaa, a junior at ECSU from Raleigh, said she's waiting until Tuesday to cast her vote. Acheampomaa said she's basing her vote for president on a couple of factors.
First, she's an immigrant, and second, she's a millennial, a member of the generation born roughly between the early 1980s and early 2000s.
Acheampomaa migrated to the United States from Ghana, West Africa, and is now a U.S. citizen. She said she will support the eventual Democratic presidential nominee, regardless if it's not who she votes for on Tuesday.
"As an immigrant point of view, I will go with the Democrat," she said.
Acheampomaa said she's leaning toward Bernie Sanders, the independent U.S. senator from Vermont. Sanders has long advocated for free college tuition, which from a millennial's perspective makes him an attractive candidate, especially to students.
Acheampomaa admitted she's not sure all of Sanders' campaign promises would ever pass Congress, but she's encouraged by how he has mainstreamed ideas like free college tuition and other key social issues.
"Right now he is the person. If I had to vote I'm going to pick him," she said.
Elizabeth Warren is another candidate she finds appealing, but the Massachusetts senator has more work to do before voters in Acheampomaa's age range support her, she said.
"She needs to do more to gain millennials' trust," she said.
Brenna Daniel, a senior from Burke County, in the western part of the state, said she'll cast her vote via absentee ballot.
When asked if she had a frontrunner for presidential candidate, Daniel, who's registered unaffiliated, laughed.
"Not at all," she said. "I'm fine with several of them but I'm not gung-ho about any of them."
Daniel said she wasn't opposed to some of Sanders' ideas, such as free college tuition.
"To me that's not as radical as people think it is," she said, commenting on criticism Sanders has received for being a Democratic socialist. "I don't see programs like that as, 'Oh, you're about to go communist.'"
Daniel pointed to Germany, for example, where free college tuition has been successful for years.
Daniel is studying aviation science at ECSU. She cited the federal government's role in the U.S. aviation industry in helping to keep the cost of air travel low.
For example, in the United States air traffic controllers are employed by the Federal Aviation Administration, which is funded primarily by U.S. tax dollars. In other nations where air traffic controllers operate as a private industry the cost of their salaries could be passed on to customers in the costs of their airlines ticket, Daniel said.
Daniel wasn't ready to commit on supporting the eventual Democratic nominee, regardless if it were her pick.
"That would depend on who would get it," she said.
Saturday's forum was hosted by the Northeastern N.C. League of Women Voters and the ECSU student-led Campus Vote Project. The candidates attending included Democratic Pasquotank Commissioner Lloyd Griffin III, and Democrats Keith Rivers and state Rep. Howard Hunter of Hertford County.
Rivers, who is president of the Pasquotank branch of the NAACP, is challenging Hunter for his seat in the 5th House District, which includes Pasquotank. The winner in Tuesday's Democratic primary will face Republican Donald Kim Kirkland of Ahoskie in the fall general election.
Griffin, who holds the Northern Inside seat on the Pasquotank Board of Commissioners, is facing a challenge from first-time political candidate Edmond Koker. The winner will take on Republican Paul Moncla in the fall.
Kaiya Smith, a volunteer with the Campus Vote Project, said she planned to vote early before Saturday's 3 p.m. deadline. The junior from Rocky Mount said she won't know who she'll vote for president till she's filling out her ballot.
All the current Democratic candidates have the potential to be good presidents, Smith said. She wants the candidate she votes for to understand how to continue improving racial equality throughout the nation. A lot of positive change has occurred in recent years but there's still more work that can be done, she said.
Smith said the Campus Vote Project aims to inform students about the key election issues and the candidates.
"I really hope people get out and vote," she said. "It's really important. This is the big one."
Part of the Campus Vote Project's work included a student-voter registration drive. Smith and others believe college students will play a key role in this year's general election.
"They're a big part of how this election will go," said Smith.