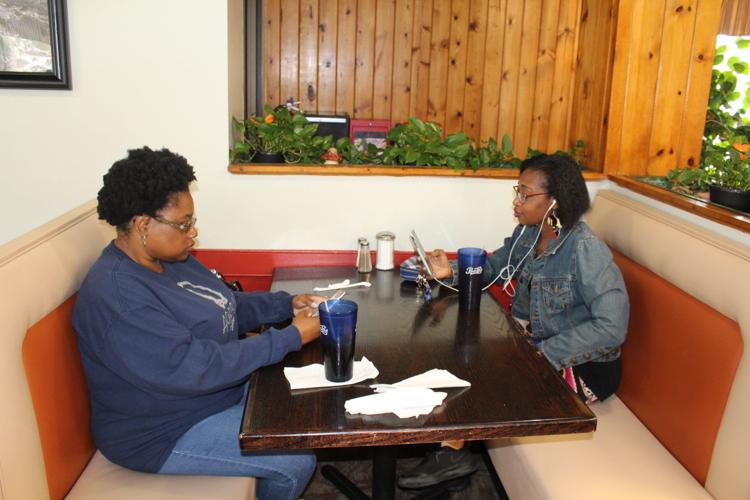 There may be fewer of them at any one time, but patrons are enjoying dine-in service at local restaurants again.
A check of restaurants in Elizabeth City Monday showed many serving dine-in customers now that they're allowed to do so under Phase Two of Gov. Roy Cooper's plan to ease COVID-19 restrictions in the state.
Kleanthis "Andy" Andreou, proprietor of Andy's Pancake and Steak House, said he's seen an uptick in traffic now that customers are no longer limited to just takeout.
"I'm very, very satisfied about the response," Andreou said.
He said most of his customers are regulars who've been calling him frequently to find out when he would be opening back up for dine-in service. Cooper lifted the restriction on dine-in service Friday at 5 p.m.
Taking advantage of the opportunity to dine in at Andy's Monday were Angela Jernigan and Traci Etheridge.
"It was good to be able to cook every day with your family," Jernigan said. "But sometimes you don't want to cook and you just want to sit down and have a nice meal with your friends that you haven't seen in a long time."
She said the only difference she noted now that Andy's is back open for dine-in service is the number of tables: there are fewer of them in the dining area. That's because restaurants serving dine-in customers under Phase Two of Cooper's plan are required to operate at 50 percent capacity and keep customers at least six feet apart. To do that, Andy's removed some of its tables for diners.
"It doesn't really feel different," Jernigan said, adding that she feels safe being in public spaces.
"People know the risk and it's up to them how they handle it," she said.
Etheridge said she was enjoying being at the restaurant.
"The seating arrangements are different but otherwise it's fine," she said. "It's good to sit down and eat, and not to have to take it out and go back home."
John and Anna Joyce McPherson were eating lunch at Andy's after attending a Memorial Day observance earlier in the day. Prior to Cooper's closing of dine-in service two months ago to stop the spread of the coronavirus, the couple would eat out three or four times a week, said Anna Joyce, who was seated in a wheelchair.
"It's not as easy for me to cook," she said. "I don't have a handicapped kitchen."
The couple ate out at El Parian Saturday night and the Mexican-themed restaurant seemed to be as full as it could be under the current rules.
"It's nice to get out again," John said. "I'm just glad to see so many of the places have survived."
Trey and Bridget Colbert were also eating out at Andy's Monday with their daughters, Tenley, 8, and Emory, 5.
"It's nice to be able to go out to eat," Trey said. "It's especially nice to see the local restaurants open back up because they haven't been able to open at all."
"Normalcy," added Bridget. "But it's not exactly normal because I keep hand sanitizers right here in my purse."
Trey said his family came in planning to order breakfast.
"But I think a couple of them might have changed to lunch since they saw the chicken and dumplings," he said.
Over at The Circle II restaurant, retired District Court Judge Grafton Beaman was eating lunch with Tommy Tilley.
Beaman said he had enjoyed ordering takeout from home during the "complete lockdown" but was glad to be back dining at The Circle II again. He said he and Tilley are part of a group who eat breakfast at the restaurant four or five days a week.
Tilley said he had been impressed by how well restaurants have been following social distancing and other health guidelines as they reopen.
"I think they're trying to do what's right," Tilley said. "About everywhere I have been people are (following guidelines). I'm really surprised how good the restaurants are doing."
Both men said they hope locally owned restaurants make a strong financial comeback.
"I'm hoping that they'll be able to survive at half capacity," Beaman said.
"You cut your income in half — that's a lot," Tilley added.
Beaman said he believes Circle II proprietor Tommy Jones has earned a lot of goodwill in the community that will help him succeed over the long haul.
"He has gone out of his way to accommodate his customers," Beaman said. "He appreciates his customers and we appreciate him."
Buddy Williams also was enjoying lunch at The Circle.
"I am so glad to go back out to eat," Williams said. "I have missed it."
At Van's Pizza, Jimmy Nash said he was glad to be able to eat at the restaurant again.
"We always came here a lot before," Nash said. "I'm glad to see them opened back up."
Nash said the food at Van's is always good.
"And they know how to treat you," he said. "That means a lot."